What are lash extensions?
We cant talk about what lash extensions are without touching on why they are awesome. One of the biggest pro's of eyelash extensions is you never feel like you have to wear mascara again, a set of lash extensions that's tailor made for you will make your eyes pop and many of my clients wear less makeup because they wake up feeling 'ready' in the morning. You get to walk around with the lashes you wish you were born with! Unlike strip or cluster lashes, individual lash extensions are applied onto each natural lash using a barely there amount of glue – the result is soft, fluttery extensions that last for weeks and weeks with the correct aftercare.
If you're a lash extension newbie, once you know the answer to the question 'what are eyelash extensions' the next question is what type of lash extensions are right for me? The different types can seem confusing at first – let me break it down for you. 
What is the difference between classic, hybrid, and volume eyelash extensions?
Classic Lashes
The biggest difference is in the result you can achieve with each – classic lashes won't add much volume but will add length. Classic eyelash extensions offer you an even lash line that opens up the eye. It helps you look made-up right from the moment you wake up, and builds on your natural lash beauty.
Hybrid Lashes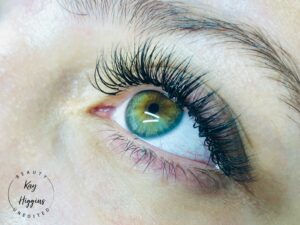 Hybrid lashes offer you a varied texture and more volume, but without the sometimes-unnatural look of volume lashes. This is the look the Kardashians made popular, so the lash line is broken and almost "spikey". Though of course, the lashes are very soft! If you look at Hollywood stars and wonder how they all have such beautiful and long natural lashes, here's your answer!
Volume Lashes
Volume eyelash extensions vary from an extremely natural look which adds some length and volume (2D and 3D lashes), to a very dramatic and full look (5D up). 5D and higher may look like you are wearing false lashes all the time. Though of course the lashes are attached to your natural lashes. So there is no bulky strip or lash separation to be seen. 2D lashes are very comparable to classic lashes, just with some extra volume which may be just what you're looking for.
The services I offer include Classic, Dramatic Classic, Hybrid and Volume Lash Extensions. My most popular treatment by far is classic eyelash extensions. I work with your eye shape and existing lashes to add a natural looking WOW with high quality extensions, to create a look that's really wearable everyday and perfect if you want to skip mascara. Because each set I create is bespoke to you and lightweight, my clients tell me they don't even know they are there!
I spend a lot of time researching products and ingredients to make sure I'm offering you the best treatments using luxury, quality products that perform. I'm a bit of a perfectionist, I like to think that shows in my work.
Kay x 
If you have any questions feel free to comment below or get in touch. Ready for the lashes you wish you were born with? For instant online booking for Lash Extensions in Bury click here.