Dermogenera is a range of new generation technology cosmetics Made in Italy that can be adapted to treat every skin concern, formulated and balanced to deliver active ingredients where they are needed without causing irritation.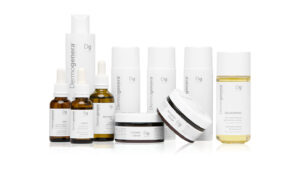 ​Containing bio mimetic synthetic growth factors, hyaluronic acid and vitamins alongside natural plant oils to nourish, repair, restore and rejuvenate. Dermogenera is trusted by many skin care professionals worldwide as a brand of choice to deliver maximum results for their clients.
Products are produced in small batches to ensure potency of active ingredients using pharmaceutical grade standards.
A compact active range for optimum results with respect for both the skin and for the environment.
- High concentrations of active ingredients in formulas that remain stable over time.
- Growth factors created using synthetic biotechnology (non-plant or animal) to ensure safety and effectiveness.
- Natural and delicate ingredients such as vegetable oils, which support skin regeneration and have calming and soothing properties without damaging the lipid balance.
- Free from parabens, petrolatum derivatives, SLS & SLES
- Cruelty free
- Responsibly sourced ingredients
Often skin care can be over complicated, with skin care regimes that require so many different products that it can seem daunting for the professional let alone for clients. Dermogenera was created to fulfill a need for a simplistic but effective system of highest quality products formulated to get you optimum results with respect for both the skin and for the environment.
The philosophy of Dermogenera is simple, to purify, repair, hydrate and most importantly to protect the skin in the most natural way possible.