Collagen Induction Therapy – Microneedling
Renew the collagen in your skin and get the smooth, radiant, younger looking skin you want!
Medical Micro-Skin Needling, also referred to as microneedling, dermaroller or dermapen collagen induction therapy is a non surgical but effective rejuvenation treatment for your skin. I use an automated micro-needling device which give optimum control over the depth of treatment. Micro skin needling creates invisible, controlled punctures to the skin, while stimulating the skins natural ability to heal itself and increase the production of new collagen. These microscopic injuries encourage the body's innate ability to regrow and repair the skin through normal physiological processes and the skin becomes rejuvenated and refreshed. Over time microneedling can decrease the appearance of superficial scarring, pigmentation, pore size and fine lines.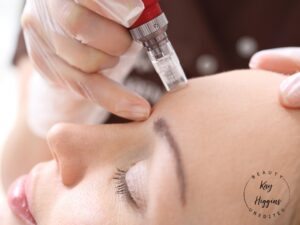 Mesotherapy solutions packed with vitamins and ingredients that can help target your specific skin concern are applied during treatment – these nutrients and antioxidants penetrate the skins natural barrier and get to the right layer of skin, further aiding in the rejuvenating effect of this treatment.
When will I see results?
The plumping effect of microneedling is immediately visible after your first treatment but the collagen regeneration process takes time, you'll see an improvement week by week but the most significant results 4-6 weeks later. As this is a natural healing process, the results are long lasting.
What can Collagen Induction Therapy treat?
Skin Rejuvenation and hydration Treatment
Acne Scarring
Facial lines and Wrinkles
Enlarged/Visible Pores
Loose skin Tightening
Does it hurt?
The ideas of needles over your skin might scare you, but most people experience a moderate pressure with minimal discomfort, the microneedles (TINY needles) should not be felt. It's a comfortable treatment with little downtime.
Microneedling facials at Beauty Unedited
The Unedited Age Defier
A microneedling treatment with an infusion of NCTF135HA, an anti-ageing mesotherapy product for intense revitalisation, hydration, treatment of wrinkles and optimising skin brightness and radiance. Includes a FILLMED peel, Microneedling with FILLMED NCTF infusion, Hyaluronic Youth mask and Dermalux Phototherapy. £95 (60 mins)
The Age Defier
A professional microneedling treatment that firms and tightens the skin, refines pores, brightens skin tone and reduces scarring - the very foundation of a fresh and glowing complexion. Includes an enzyme peel, infusion of targeted Clinicare mesotherapy serums during treatment and Dermalux Phototherapy to boost your results. £75 (60mins)