Microdermabrasion facial - is this the perfect treatment for you?
It's not a very well kept secret because so many people know about it, but microdermabrasion has stood the test of time in the beauty world as it's fantastic for achieving glowing skin. During your facial treatment, thousands of tiny crystals gently exfoliate the skin and old dead skin cells are sloughed away to reveal fresh, new skin.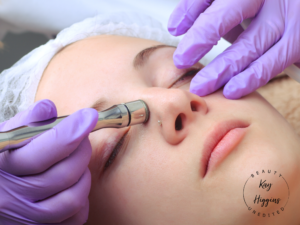 See visible Results in just one session with a Microdermabrasion facial.
If you like to see a noticeable difference after a facial then this is the right choice for you. Results are visible in just one session but with regular treatments, you may notice a reduction in some of those fine lines and wrinkles! With a luxury Microdermabrasion facial, collagen production is stimulated which keeps your skin looking youthful and supple over time. The results are a glowing complexion and clean, clear skin that more readily absorbs skincare products.
We use the latest microdermabrasion technology combined with cosmeceutical skincare products for the ultimate, luxury, exfoliating facial experience. Your facial will include a thorough cleansing, extractions and application of appropriate serums, hydrators and SPF post treatment. This is a comfortable treatment with little or no irritation or downtime – you can resume your normal activities after treatment.
What can Microdermabrasion treat?
Rough Skin Texture and enlarged pores
Fine lines and wrinkles
Acne prone or acne damaged skin
Blackheads/Whiteheads
Oily, dry or patchy skin
Age spots or hyperpigmentation
Rough skin texture or enlarged pores
Book Microdermabrasion in Bury, Manchester.
My studio is located in Unsworth, Bury within easy reach of Whitefield, Prestwich and Manchester.