Beautifeye - A revolutionary new 3 step skin treatment from FILLMED which has been formulated specifically for the gentle and delicate tissue around the eye area.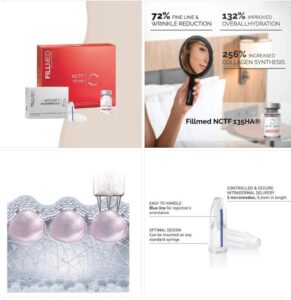 Using the phenomenal NCTF135HA Serum this safe, effective and painless procedure can achieve amazing results on dark circles, fine lines and poor skin quality around the eye area.
NCTF is a unique pro ageing & revitalising cellular treatment factor. Containing more than 50 active ingredients this game changing injectable solution prevents, slows and corrects the signs of skin ageing. By providing the dermis with the essential ingredients it needs to thrive, it recreates an ideal cellular eco system and boosts the factors required for beautiful skin.
This results in up to:
147% increase in fibroblast stimulation
256% increase in collagen stimulation
90% reduction in free radicals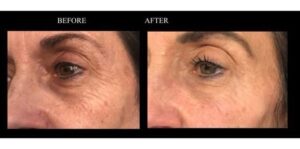 3 sessions are required spaced 2 weeks apart. All sessions include a brightening skin peel, an eye recovery mask and a Dermalux LED light therapy session so not only do you achieve amazing results to the eye area but your whole face appears brighter, tighter and more radiant.
£100 per treatment.
Bio-Nutrineck
BioNutrineck - To refresh, rejuvenate & rehydrate!
The neck is one of the most delicate areas of the body. We use our necks almost continually, It's exposed to more sun and environmental elements and is highly visible. Our use of smartphones means we crease and fold our necks more than ever. With thinner skin and fewer oil glands to improve elasticity our necks can show the signs of aging quickly.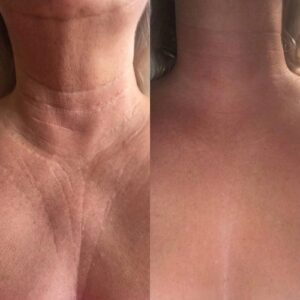 BIONUTRINECK has been specifically designed to target this delicate zone with a complete 360° routine. It is used for filling fine lines, moisturizing, adding radiance and tone boosting for tired looking necks and décolletage area.
Results will give you:
• Improved skin texture.
• Correction of fine lines and wrinkles.
• Improved elasticity.
• Hydration
3 treatments are required spaced 3 weeks apart. All treatments include a brightening skin peel.
From £105 per treatment - POA